Welcome tone lovers !
Here are some info on the gear currently available.
My priority is to build tone machines that goes a bit further on than just cloning amps that so many are doing today, these following amps are result of over 30 years of research for the ultimate clean guitar tone that responds extremely well to effect pedals, all built with careful attention to tone.
Mother Classic reverb 70, 6550 tube poweramp.  I set up the classic Mother reverb amp in this version to produce the most big huge sound possible but still at decent volumes for club gigs , there is simply nothing out there with this unique clean fat sustain response to pedals ,  and works fantastic with all pedals like fuzzes, distortion and overdrive,  Panel controls are: Pre volume HI – LO – FAT/Scoop switches, Treble, Middle,Bass, Reverb send, Reverb return, Master vol, Presence,  4-8-16 speaker out, Price 4200 Euro
Also check out  Philip Sayces website  !  http://philipsayce.com/  
Mother RG 70, 6550 tube power amp. Ramon Goose Signature amp, basic non reverb clean amp with massive clean headroom that works great with pedals and projects tone in a wonderful way, this version has slightly cleaner tone than the Mother classic .  4-8 ohm speaker out  Price  3400 Euro
Ramon Goose website (https://ramongoose.wordpress.com/
Supersnake   6L6 50w tube power amp. The original version now available again, this is a similar circuit I made into Philips Sayces Fender amp with some added special trix , this amp has a deep lush reverb (only Blackface front version available for the last few I will make ) Controls are: Volume shape switch,  treble, mid, bass, reverb shape, reverb level,  it is a non mastervol amp, 4-8-16 speaker out,  3400 Euro
Special LTD offer   "SS One"  amp   ****All sold !!! **** 6L6  45w reverb amp I decided to make a limited of 3 amps   of this original *Proto special amp* version and using the same 3 last silver Supersnake panels I have in stock,  70s style knobs and the same turquoise front cloth. controls are: Prevol, Bright switch , treble, mid, bass, reverb shape, reverb level, and a 3 step Hi-Lo switch, none mastervol, 4.-8-16 speaker out. Price 3400E **Currently this original amp is played by Shaw Davies https://youtu.be/5zEF_eMjBxo?t=28  Also check Nik Sevignys original demo and description of this amp,  https://youtu.be/nCNhOkIldu0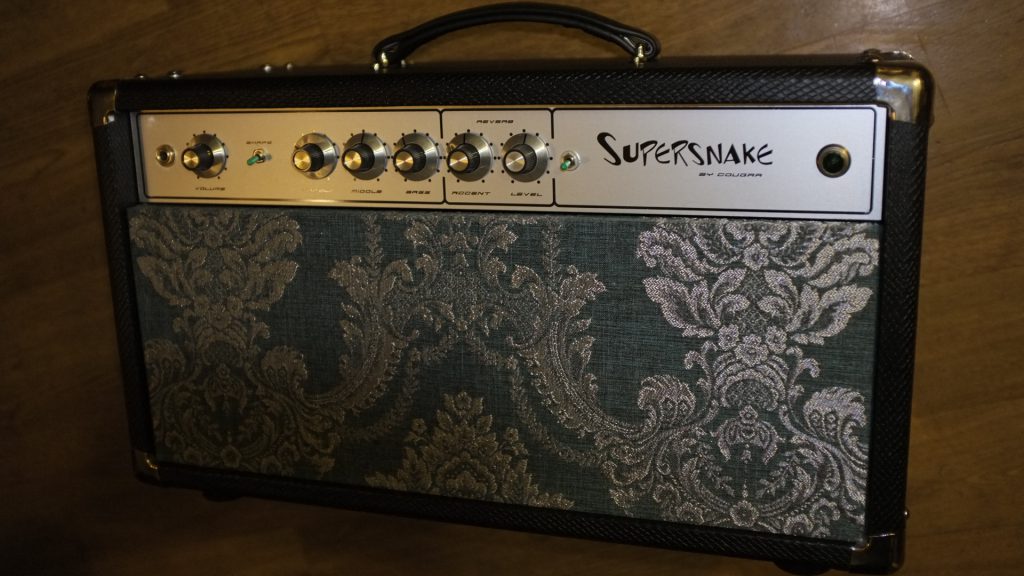 Enchilada, mods for all old Fender reverb amps.from Deluxe to Twin, making them sound larger than life and with a killer response and tight bottom end and has quick response and and wonderful presence, just full deep clear tone, I done this circuit version to Philip Sayces Fender amp.  (Please, this mod offer is limited depending on my schedule, so please send me a email and I see what I can do )  I can do this on  all the Fender Deluxe ,Vibrolux ,Vibroverb, Super and Twin reverb that has old style point to point board (but not on the reissue amps)  ,,,and you send only the chassie it gets new tubes caps and totally new signals circuit  .
Prices – 805 Euro  for the 22-35w amps  850 Euro  for the 45-50w      1085Euro  for the 100w amp conversion.
Thunderbrake,  Power Attenuator  4-8-16  100w.  235Euro  **You can use Paypal for this unit.
Spider, splitbox to use in multiparalell amp setups for that wide fat SRV, Sayce style amp sound, from 1 to 4 amps at once, produces a great wide big tone.  99 Euro   **You can use Paypal for this unit.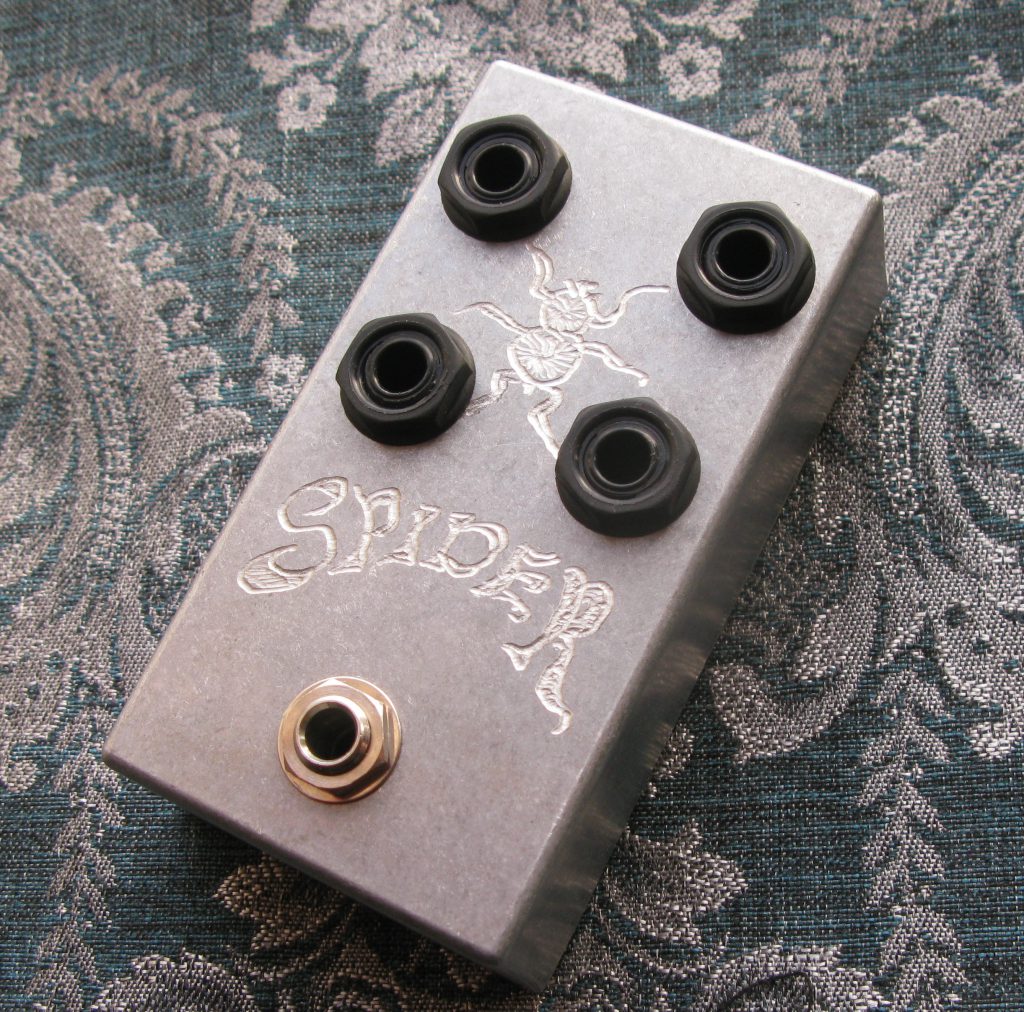 **NOTE ** Exotic wood cabinets and fronts is no longer available and I am now also avoiding taking on one/off projects, I will focus on my standard amp models above right now and do some slight fine adjustments to them for the customers playing style if so desired , all gear are built to order, if you just want a standard  version of any amp that is of course also fine, but I can no longer accept special one off amp custom work  due to limited work time.,
I also will have to cut down on some front panel engravings as it makes my shoulders very tensed up and age does not help,  I will still do the basic rearpanel engravings and I am still naming the Mother and Supersnake amps as usual,
**The  Mother amps will on the next coming orders get the Blackface screen printed front panels, and perhaps my shoulders gets better soon, as option I might accept to do a simpler front engraving like a basic styled "M" instead  on the panel if you still want the raw brushed aluminum look,  but I have blackface Mother panels that i think look very nice for now on the coming amps .  ( **Currently no more more silverface printed Mother panels available )
/ All amp order payments are done via banktransfer, no paypal for amps only the smaller items.
** All prices may change depending on currency swings so please check with me !!
For sale , click.. Currently avalible, New and used gear. *Updated  March -20
CONTACT
**********************************************************
Philip Sayce
Philip Sayce playing the Enchilada mod Fender amp.
Ramon Goose plays the RG70 amp with a reverb pedal from Free the Tone
Check out Nik Sevignys youtube channel with lots of cool Guitar and amp goodies https://www.youtube.com/channel/UCYCrei3LwCnPwdUOv42KdIA
Paul Wright plays the Mystic Reverb amp
Olli Siikanen playing the KTC amp.
Chris Chown playing a Enchilada mod Super reverb.